International Movers
It's the mother of all moves: relocating your life, family, possessions, or business to a different part of the world. While moving is never an easy endeavor, making an international move can be an extremely overwhelming and complicated process. Not only are you preparing for a new life in a foreign country, but you also need to handle the added stress of passports, paperwork, foreign bureaucratic procedures, and maybe even a different language. It's only human to be anxious about this enormous transition.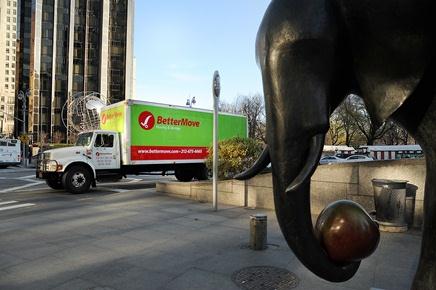 We at Better Move are prepared to make your international move easier for you. With years of experience in handling international moving, we can provide you with important guidance and resources. We'll handle all the actual "moving" parts of your international move so you can focus on all the other details of your relocation. For your international move, Better Move will be there with you every step of the way.

Detailed Planning and Preparation
We'll give you personal, one-on-one consultation: A Better Move relocation consultant will work with you one-on-one and provide you with guidance to best prepare for your international move. Together you can develop a moving plan that serves your unique needs.
Our prices are upfront and all-inclusive:

Our international moving quotes are upfront and all-inclusive, so what we agree upon in advance will always be exactly what you pay – no exceptions. We plan all details of your move in advance so there are never any hidden costs.
We'll pack, wrap, and protect: You've got enough to worry about – let us prepare your move for you. We'll provide all the boxes and supplies and will pack for you. We know how to pack and crate your possessions and furniture for long journeys to make sure that everything arrives safely to your new location.
We'll insure all your belongings: We stand by our commitment to protecting your possessions and are dedicated to keeping them safe and sound. To back up our commitment, we offer full insurance for all of your belongings.
A Painless and Stress-Free Move
We'll track your shipment every step of the way: With GPS systems and inventory tracking technology, we'll know the location of your possessions at all times.
We'll handle transport regulations: We know the ins-and-outs of international transport regulations and will handle all the details. We'll figure out the permits, we'll be there to pick up your shipment from the port or airport, and we'll be present during customs clearance.
We do door-to-door delivery: We'll take care of your possessions from the moment we pack it into our truck to the moment we carry it over the doorstep of your new location abroad.
We can help you unpack: We can help you unpack your boxes, reassemble your furniture, set up your electronics, and get settled into your new location. It's a big way we can help make the transition abroad a little bit easier for you.