Box delivery
Finding boxes is the last thing you should worry about when preparing for a big move. As part of our commitment to make your move simple and stress-free, we provide a large variety of tailored moving boxes for objects of any size. For your convenience, we'll deliver the boxes you need directly to your door to help make your moving preparation as easy as possible.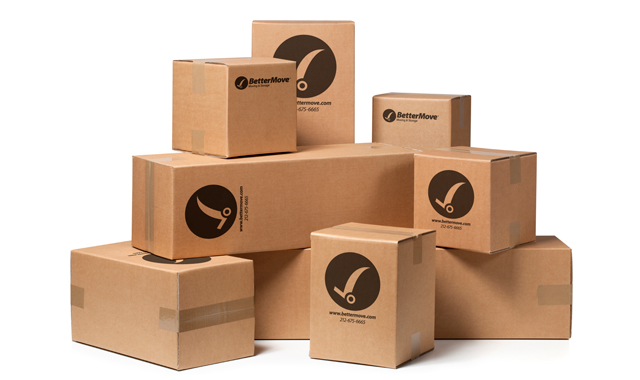 Our heavy-duty boxes are double-corrugated to ensure that your items stay protected and safe during the big move. To help you stay organized, we'll also provide printable labels that you can attach to your boxes.
Our wide variety of boxes suit items of different shapes and sizes:
Book boxes: perfect for objects that are small but heavy, like books or DVDs
Linen boxes: available in a wide variety of sizes and designed for clothes, blankets, toys, appliances, and other non-breakables
China dish boxes: heavy-duty and double-walled to keep your dishes, glasses, and chinaware safe
Wardrobe boxes: just like a portable closet, this box stands upright and includes a pole where you can hang your clothing
Electronic boxes: designed to protect your electronic and stereo equipment
File boxes: keep your documents and paperwork safe
Lamp boxes: fits most standard sized lamps
Picture/mirror boxes: keeps flat and fragile items such as mirrors, glass tops, and paintings safe in a strong and compact box
TV boxes: ideal to protect your TV, microwave, stereo equipment, computer monitor, and other large fragile items
Providing and delivering the boxes you need straight to your doorstep is just one of the many ways we can help to give you a better move!